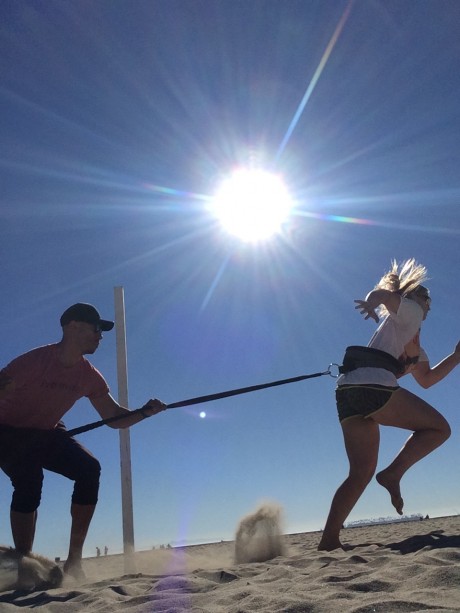 Athletes know how to train hard and get results. What they don't always know how to do is access the power within for increased levels of peak performance.
As creator of The Hart Method, I mentor athletes on how to incorporate my 8 Maxims of Movement into their daily routine.
The young athlete's potential:
The Hart Method is about getting back to our natural and pure essence in physical movement. As children, we move our bodies efficiently and joyously. This natural essence is usually covered up as we age. My most challenging clients are usually older in age because they have more layers of training, coaching, and instruction that takes them further away from this pure essence that holds our potential.
My work is about preserving this pure essence and empower each athlete with the tools to help them along their sports journey. My goal is to help young athletes embody their true potential as athletes, students, and human beings.
The results?
Increase speed
Experience more explosive energy
Intuitively conserve energy
Move your body with ease through full range of motion movements
Reduce risk of injury
Prolong professional career
Increase stamina
Ignite core strength
Improve balance and concentration
Featured Pro Athlete Clients Include:
Three Time Olympic Gold Medalist
Outstanding Role Model
Corporate Brand Spokesperson
Extensive Media/TV Experience
Motivational Speaker/Appearances
Philanthropist & Animal Lover
As one of the most respected major corporate brand spokespersons, Misty enjoys impactful Corporate brand partnerships with leading companies Nike, Wheaties, AT&T, Visa, Arnold/Oroweat/Brownberry Breads, Purina, Gatorade, Stouffers, OPI, Spalding, Teva Respiratory, Topps, Abreva and more.
Misty has dominated every level of the sport of volleyball, both as an indoor volleyball Champion(two California State Championships at Newport Harbor High School, 1991-1995 and one NCAA Division 1 Championship at Long beach State, 1998) in addition to securing her position as the most decorated athlete in beach volleyball history.
Looking back, it's no surprise that this Long Beach, CA native became a professional athlete. Misty grew up playing beach volleyball at the Santa Monica Pier with her parents, 1968 volleyball Olympian, Butch May and Barbara May, a nationally ranked tennis player. In her adult life, Misty is married to Major League Baseball catcher, Matt Treanor.
Matt Treanor is American professional baseball catcher. He has previously played for the Florida Marlins, Detroit Tigers, Texas Rangers, Kansas City Royals, and the Los Angeles Dodgers.
Los Angeles Dodgers
On November 15, 2011, Treanor signed a one-year contract with the Los Angeles Dodgers.[6] Serving as the backup to Dodgers catcher A.J. Ellis, he spot-started throughout the season. On July 22, in New York, Treanor hit a two-run single in the top of the 12th inning, sparking a 5-run rally to beat the New York Mets 8-3. He is currently a free agent.
Toronto Blue Jays 2013 Top Prospect
Name: Chase DeJong
Position: Right Handed Pitcher
Date of Birth: 12/29/1993 (19)
Acquired: Selected in the second round of the 2012 draft
High School: Woodrow Wilson (Long Beach, California)
College: Had commitment to Southern California
Height/Weight: 6'5"/190 lbs
Bats/Throws: L/R
Awards and Accomplishments:
Unranked on 2012 Top 30 prospects list (not in organization)
2012 Rawlings 2nd Team All American
2012 California All Region 1st team
2012 Statistics and Analysis
1-0, 12.0 IP, 7 H, 2 ER, 0 HR, 1 BB, 15 K
1.50 ERA (0.95 FIP), 0.67 WHIP, 11.25 K/9, 0.75 BB/9, 1.22 GO/AO
How Can I Support You?
Contact me here and let's connect.